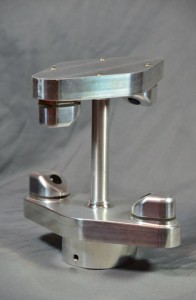 The TriSonicaTM
The TriSonicaTM Solid-State Wind System, manufactured by AnemomentTM .  Even though it was designed for horizontal air flow, it can also provide measurements of all three dimensions of air flow. The open path provides the least possible air flow distortion of the wind field.
Four measurement paths provide a redundant measurement. The path with the most distortion is removed from the calculations to provide accurate wind measurements.
Data emulation allows for the direct connection to existing data loggers and systems without costly changes to associated electronics. Data output is factory set to user requirements and includes the emulation of many common types of wind sensors.
Optional heating extends the lower operating temperature of the sensor and permits continuous operation during heavy ice and snow.
Get the TriSonicaTM Brochure
For Inquiries about the TriSonicaTM, contact us at:   trisonica@apptech.com
Features
No moving parts
Digital outputs
Time proven design
Sensor emulation
Replaces many other Anemometers
Low power
Solid-state digital operation
Optional Sensors
3D Accelerometer:

Tilt:     ±0.5 degrees
Tilt Compensation:     ±0.5 degrees

 Temperature and Humidity Sensor:

Temperature:     -50°C - 80°C (±1°C)
Humidity:     0-100% RH (±3%)

Barometric Pressure Sensor:

Atmospheric Pressure:     50-115 kPa (±1 kPa)
Additional Options:
Digital Outputs – Other digital outputs available are RS-422, RS-485, and SDI-12.
Output Options – Data available for the digital output only: Two axes orthogonal format
(U, V) for Wind Speed & Wind Direction. Higher absolute accuracy for ultrasonic temperature. 
Custom Formats – Custom output formats are available for large quantity orders.
Color – The standard color is black, but other colors are available upon request.         
Mounting – The base can be adapted to provide a mount to a variety of structures.
Check with the factory for available options.
Interface Box – An external box which can be connected in series with the sonic cable to
provide a place for battery power along with a wide variety of input/output interface options.  
Heater – A heater can be provided to protect against icing conditions.
Battery System– To provide the longest possible battery operation, given a full charge in the
smallest package profile, the Li-Po (Lithium Polymer) battery is used, with its own special charger.
Backup Battery – When a backup battery is required, it is expected that the unit will be
operated on an external power source. This battery will be a Gel-Cell type.
Specifications:
Range   
0-75 m/s for wind speed 

0-359degrees for wind direction 

-50°C to +80°C for temperature 

 

Resolution 
0.1 m/s for wind speed 

1.0degrees for wind direction 

0.1°C for temperature  

 

Accuracy 
±0.1 m/s for low range wind speed 

± 2% for high range wind speed 

±1 .0degrees for wind direction  

±2°C (absolute) Temperature 

 

Operating Temperature 

 

-50° C to +80° C 
Digital Output 
RS-232 standard 

 

Data Output Rate 
1 Hz, 2 Hz, 5 Hz 

 

Rain/Snow 
Can be heated 

 

Operating Frequency 
40 kHz 

 

Anemometer Power 

 

9 – 36 VDC @ 30mA 

 

Dimension 
16cm x 16cm x 16.5cm 

 

Weight 
~ 1 lbs