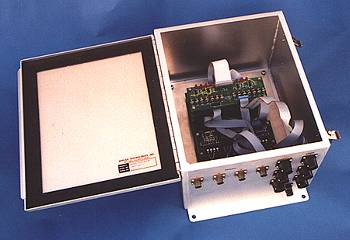 The DataPacker/DataLogger - data synchronization and data collection device.  This meteorological instrument will accept multiple Ultrasonic Anemometer outputs from a variety of digital instruments, along with multiple analog sensor outputs, and combine and synchronize the data into a single output for your weather system.
A common problem experienced in many field experiments is the ability to collect data from a wide range of different instruments and sensors.  Some of the  requirements are to synchronize the data from each sensor, combine the date and collect the data into a single packet format so it can be transmitted easily.  The DataPacker/DataLogger will do just that.
Applied Technologies, Inc. has developed a DataPacker/DataLogger that accepts a combination of analog and digital inputs, combines and formats the data, and presents it all in a single serial stream.  The digital output is presented to a computer through a serial port, for easy storage and processing.
The DataPacker/DataLogger can be assembled in a variety of configurations to fit most applications.  Because it can be built in a weather-proof enclosure, the unit can be located in close proximity to the analog sensors, providing for short lines and less noise problems.
The data logging option also allows the data to be stored internally on an SD card for transmission by Ethernet, WiFi, RF radio or card exchange.  Exchanging the card using the optional transmissions methods does not interrupt data collection.
FEATURES:
Synchronizes digital and analog measurements
Surge protection on all inputs and outputs
Analog inputs differential or single-ended
Analog inputs have 100Hz Sallen-Key filter
Internal data storage by SD card
User configurable
RT clock option
Easy setup and flexibility
Unattended operation
Low power
Rugged construction
Variety of data outputs